...on a Saturday!
A combination Blogger being a pain on Tuesday* and then a series of unfortunate incidences has pushed back my blogging schedule. But I'll soon get back on track. I have two weeks of Project 365 to upload - this will be done tomorrow and Monday, and
This is my Tuesday
will continue on Tuesday - the theme being
Christmas
- so please bear with me until I catch up!
So this week's theme is
Childhood
. When I was a child I was really lucky enough to go on holiday to Portugal every year. Every year from when I was three to when I was ten our whole family (my parents, two sisters, aunt, uncle, three cousins and I) would set off from our home on the west coast of Scotland to the south of Portugal. We always stayed in the same big white walled villa, with it's sparkling blue swimming pool. I thought it to be the most magical place in the world - it was set amongst pomegranate farms, of which I had never seen the like. Lizards ran past me as I played outside, peacocks would stray in to the garden, it had so many nooks and crannies to hide in and play in, and in the garden at night the sprinkler system would kick in, and beg me to run bare-legged through it's spray (there is no need for sprinkler systems in Scotland so I was always wide-eyed with wonder at it).
By far my favourite thing about the villa was the sparkling blue swimming pool. As a child I was never much of a swimmer (and still am not much of a swimmer) but in the heat of the South of Portugal I was happiest splashing about in it. At age five, in the interest of safety I was bought a rubber ring in the shape of a horse, and my cousin a rubber ring in the shape of a seal, so we could splash away to our heart's content.
My cousin and I of course decided the rubber rings had to have names. Of course. My cousin, Samantha, went for Sammy the Seal. You could see where she was coming from with that. I could have gone for something similar, like Horace the Horse. But no, my age five self decided that the rubber ring horse should be called 'Nippy'. As you do. I can't remember the reasoning for this, and I'm sure it was something to do with my over-active imagination.
In any case, I love Nippy, and rarely went anywhere without Nippy. Here is me with Nippy (I'm the one with the dark hair) and my cousin with Sammy (she's the blonde one), in 1986. My oldest sister is also kind of in the photo, sitting on a lilo: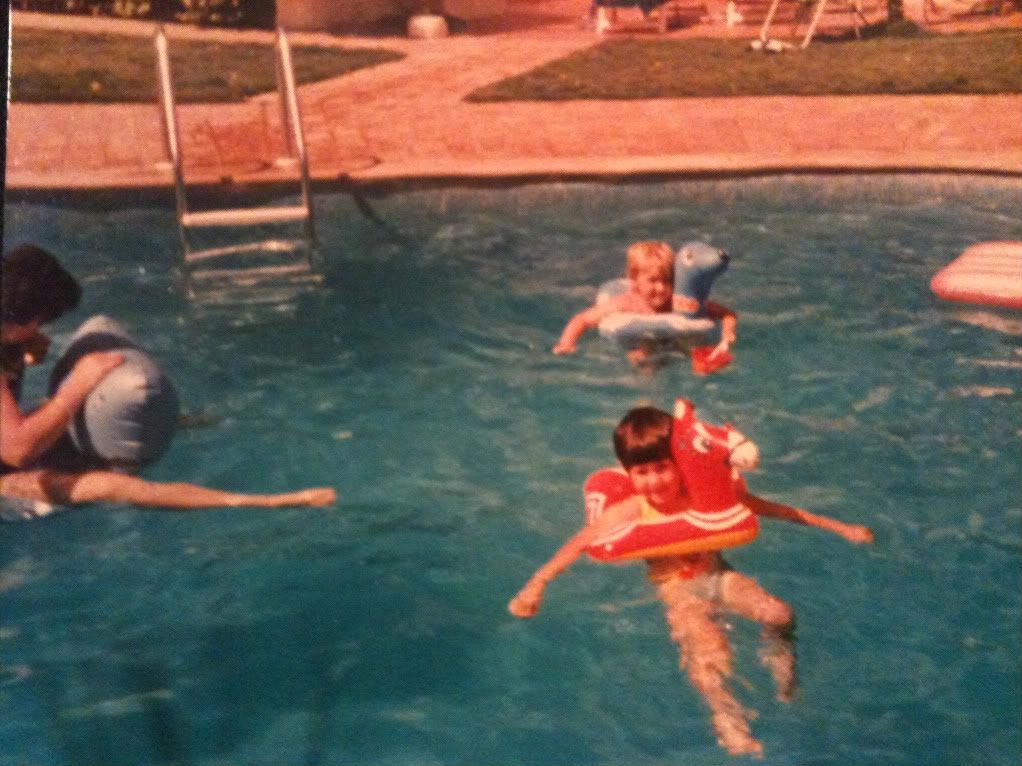 Looking at this makes me feel so warm and happy, and brings back some wonderful memories.
And just to prove I went nowhere without Nippy, here is me out of water with Nippy in tow: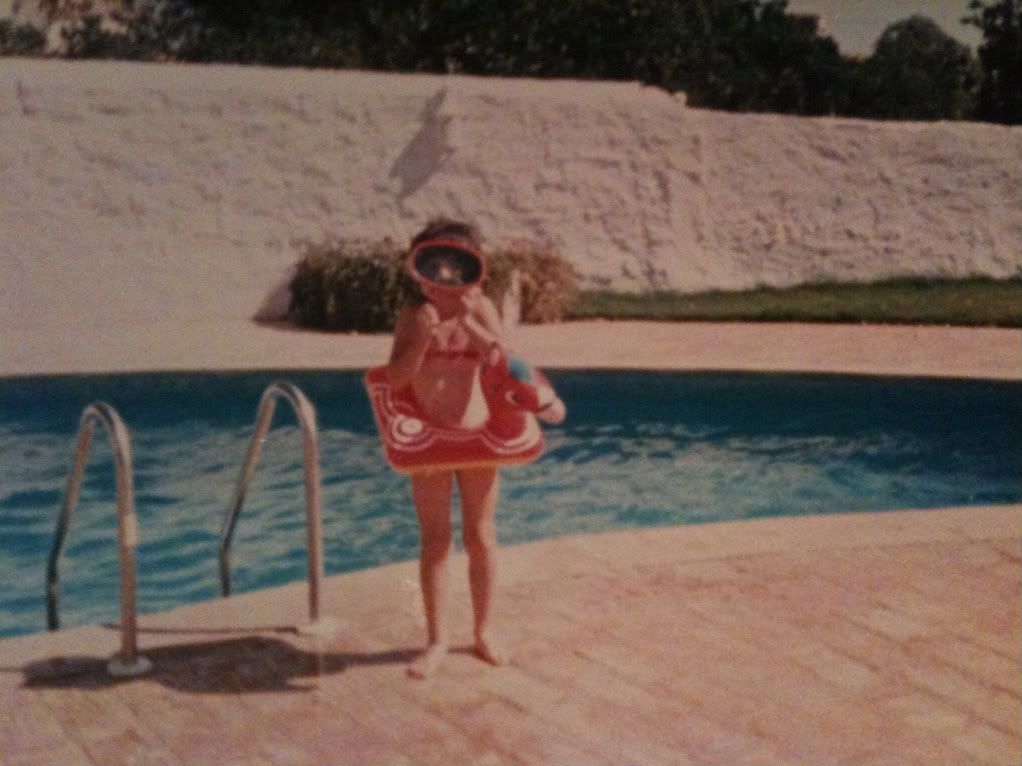 I really was so attached to him!
As I said, the theme of this Tuesday's
This is My Tuesday
is
Christmas
, then we'll take a break for a few weeks. Look forward to joining you then, when hopefully Blogger will be behaving a bit better.
So your turn - post a photo of your childhood, and come back here and leave your link:
xx
* Blogger is STILL uploading my photos sideways. The only way I can get round this is by uploading my photos to Photobucket, and linking to them.